Live your passion
Join our project

As creators and craftsmen of watch straps and leather goods, we perpetuate a unique expertise by recruiting locally and respecting people and nature.
Our Values
The values that drive us and guide us daily are shared by each of the Group's 250 employees. More than words, these values build and define us.
01.
Trust
We can count on the skills and abilities of each of our employees to move forward together in complete trust.
02.
Respect
We respectfully apply the charters, standards and procedures related to the life and activities of the company and place great emphasis on the respect of others.
03.
Honesty
At Groupe Créations Perrin, we are not afraid to acknowledge our actions and to express ourselves sincerely and openly.
04.
Communication
We need to know how to give, receive, hear, and share.
Unsolicited Applications
Want to join us? As part our CSR approach, we are committed to fair treatment of employees and non-discrimination in hiring.
You can therefore send us your application anonymously via our messaging service.
Training
Internally

Groupe Créations Perrin trains its employees internally when they join the company, but also throughout their professional career, according to their requests and our needs.
Through the CQP (Certificat de Qualification Professionnelle), an advanced vocational diploma in the manufacturing of watch straps, each worker is trained in the various positions of the company and can thus progress and perfect theirs kills and know-how. Depending on the willingness of each person, our workers can pass one or several modules in order to obtain this diploma, which is a guarantee outstanding professionalism, solid skills and a constant desire to learn.
Externally

Groupe Créations Perrin also works with Pôle Emploi (the French Job Centre) and the École de Sellerie Maroquinerie d'Art Robert Boudard (Robert Boudard School of Saddler and Leather Goods) in the Pays de Montbéliard on the Préparation Opérationnelle à l'Emploi (POE) training scheme, which helps us to recruit as we develop our leather goods activity, thanks to the support of Pôle Emploi and financing from the Bourgogne Franche-Comté Region. Thus, selected future production officers undergo several months of training at this apprentice training centre, before finally being hired at the new site in Allenjoie.
Indeed, most of the craftsmen at Créations Perrin Sellier were trained at the prestigious Robert Boudard School. Are you passionate and wanting to join this school? We would be delighted to welcome you and support you during this course.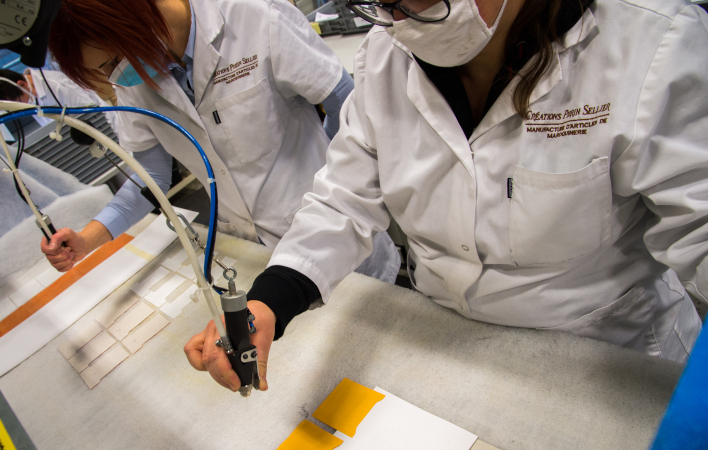 <